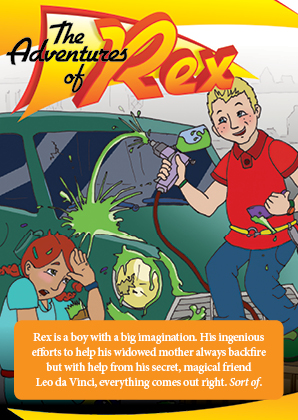 genre: family animation comedy/thriller
audience: suitable for children and adults
market: feature film; 10 minute TV episodes; sequel movies; merchandise
Recently widowed and lovely but sad, Donna has little money and is finding it hard to raise her son Rex alone.
Rex, an energetic boy, desperately wants to help his over-worked mother in a complicated world. But his ambitious, often screwball, plans – hatched up with the help of his mysterious inventor puppet Leo da Vinci – cause unexpected chaos for Donna.
Rex's sometimes best friend, fiery tomboy Becky who lives next door and her dad, Tex, who has hot rod and new wife troubles are also recruited into Rex's adventures.
In Rex's first feature film, The Fast Lane, his brave efforts and misunderstandings reach a climax in a disastrous and bizarre hot rod race.
Just when all seems lost, a strange deal with Crazy Sid, counterfeit money and a woman on the warpath with a frying pan save the day.