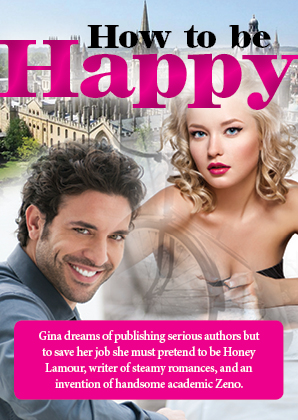 genre: romantic comedy
Aspiring publisher Gina is an intellectual who despises romantic fiction, especially the racy kind, and dreams of signing the next great thinker for the failing publishing house she works for.
Her department produces a series called How To Be Happy, based on the teachings of ancient Greek philosophers, and Gina believes in philosophy as a way of life.
Unfortunately her sales figures are appalling, and to keep her job she has to reluctantly promote Hearts On Fire – a blockbuster which could save the company's fortunes.
When Gina tries to find Honey Lamour, author of the steamy romance, she discovers that she doesn't exist, and that the book was really written by a handsome academic called Zeno.
Gina has to step into the breach and masquerade as a glamorous bodice-ripping novelist. Zeno's real ambitions are for his thesis on Oriental philosophy, but his Oxford college has succumbed to pressure from their Chinese sponsors, and refused to publish it.
Zeno clandestinely incorporates the banned ideas in his romantic novel, but when it becomes a best-seller the Chinese find out and Zeno and Gina become embroiled in international intrigue.
Can they save the company, and will Gina learn not to judge a book by its cover or an author by his title? Sometimes your heart knows better than your head.