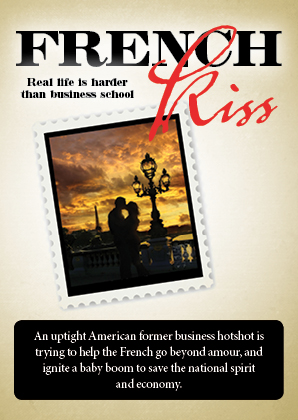 genre: romantic comedy (laced with irony)
Michael is discovering that real life is harder than business school. He is a former Entrepreneur of the Year winner, and was worth millions on paper until his start up stalled. Not yet 30, he's now the head of the tiny European arm of a multinational – and he has lost his nerve.
Giselle was the belle of the art world in Paris in the 90s when she was an art student and model for the top painters. She is still chic but now lives in London and works as an administrator.
France needs more French babies. Together Michael and Giselle have won a French government contract for a campaign that will help increase the indigenous French population – thereby bolstering the French national spirit and saving the economy.
They work with Alain, a washed-up Parisian painter for whom Giselle used to be muse and mistress, to create a masterpiece for the modern world. They use art, philately and American high-tech ingenuity to promote the most French of all activities….love.